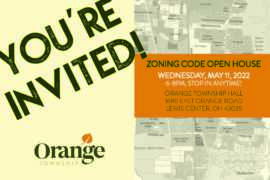 YOU'RE INVITED!
LET'S TALK ZONING
What does zoning mean for Orange Township?
We are updating our zoning code, and this is a chance for you to learn about the project, ask questions, and give feedback on what you'd like to see in a new zoning code.
ZONING CODE OPEN HOUSE
WEDNESDAY, May 11, 2022
6-8PM, STOP IN ANYTIME!
ORANGE TOWNSHIP HALL
1680 EAST ORANGE ROAD
LEWIS CENTER, OH 43035
If you are unable to attend the open house in person, please send any questions or comments to orangezoning@orangetwp.org. More information about the event can be found at: orangetwp.org/departments/zoning.
Delaware Public Health District is looking for community members who are invested in the health of Delaware County residents, and would like to participate in a community coalition, The Partnership for a Healthy Delaware County. The Partnership is a community coalition housed within the Health District and chaired by community leaders, Fara Waugh (Executive Director, SourcePoint) and Chris Fink (Associate Professor of Health & Human Kinetics, OWU).
The Partnership vision is to create a community where all sectors of the county work together to provide opportunities for complete health and well-being. The coalition meets quarterly to plan, implement & evaluate Delaware County's community health assessment (CHA) and community health improvement plan (CHIP) process. The CHA/CHIP process allows Partnership members to improve population health among all ages. Current coalition members include participants from all sectors of the County including:
Community Members
Faith-Based
Education
Healthcare
EMS/Fire/Police
Community Organizations & Non-Governmental Organizations
Business
Starting in May, The Partnership will be kicking off a new community health assessment cycle, allowing members of The Partnership to review the most recent health data collected from Delaware County residents and prioritize the most pressing health issues facing our County. The Health District will be hosting a community data release event on May 18, 2022, at 8:30am (location TBD) which will highlight the findings from the most recent health survey results, collected from anonymous Delaware County residents this past fall.
Please join us – for more information on how to be involved, please contact: thepartnership@delawarehealth.org
The Board of Elections is in need of Poll Workers for the May 3, 2022 Election.  If interested, please contact Ali Solove, asolove@delawarecountyohio.gov, 740-833-2085 office, 614-595-0861 cell
Ali M. Solove
Delaware County Board of Elections
Poll Worker Supervisor/Community Outreach
2079 US Highway 23,  North
Delaware, Ohio   43015
asolove@delawarecountyohio.gov
740-833-2085 office
614-595-0861 cell
Road  Closure on East Powell Road at Lyra Drive starting March 21, 2022
The City of Columbus Project Fact Sheet
INTERSECTION – E. POWELL ROAD AND LYRA DRIVE
Intersection – E. Powell Road and Lyra Drive
This project will extend Lyra Drive from the Lyra Drive Extension project terminus to E. Powell Road. A new roundabout will be constructed at the intersection of Lyra Drive and E. Powell Road. Improvements include lighting, drainage, waterline, sanitary, sidewalk, shared use path and landscaping
CONTACT INFORMATION
Department of Public Service
111 N. Front Street
Columbus, OH 43215
Office :  (614) 645-3111
For more information, please click on the below link.
https://www.columbus.gov/Templates/Detail.aspx?id=2147523656&fbclid=IwAR19JgiP8RXRlgB_ZccAC6kaHSs068v3r9YMlkHrDNq3pGdFJwegC6jEKpM