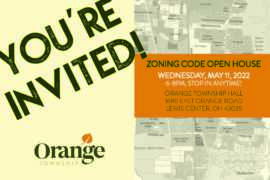 Zoning Code Open House
YOU'RE INVITED!
LET'S TALK ZONING
What does zoning mean for Orange Township?
We are updating our zoning code, and this is a chance for you to learn about the project, ask questions, and give feedback on what you'd like to see in a new zoning code.
ZONING CODE OPEN HOUSE
WEDNESDAY, May 11, 2022
6-8PM, STOP IN ANYTIME!
ORANGE TOWNSHIP HALL
1680 EAST ORANGE ROAD
LEWIS CENTER, OH 43035
If you are unable to attend the open house in person, please send any questions or comments to orangezoning@orangetwp.org. More information about the event can be found at: orangetwp.org/departments/zoning.